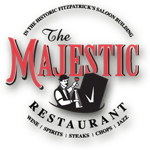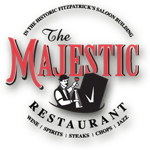 Our kitchen is open:
Tuesday seatings in the main hall at 6pm and 8pm only
Wednesday through Saturday main hall seatings at 5pm and 7pm – Jazz Club 6pm & 8pm
Live music is currently performed for 6 and 8 o'clock seatings Tuesday through Saturday
All seatings are limited to an hour and a half dining experience. We are doing our best to leave a
window between seatings to sanitize the entire floor after all guests have left and before the next group
is seated. We are doing this in hopes of providing the safest environment for guests and staff alike. We
do not currently have bar seating available. Things are very different at this time and we appreciate
everyone's flexibility to help us offer the safest environment possible.
Our Address:
The Majestic Restaurant is located at 931 Broadway in Downtown Kansas City, Missouri.
You may reach us by telephone at (816) 221-1888
You can contact us by email at: info@majestickc.com
Save
Save
Save
Save
We invite you to The Majestic Restaurant to try a Kansas City steak and find out why we feel they are the best steaks you can find.