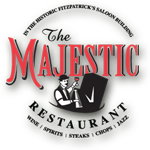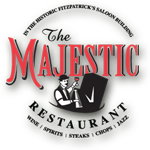 The Majestic Restaurant-
A Downtown Kansas City Restaurant
Prices and items subject to change.  Please call us at (816) 221-1888 if you have any questions.
The Majestic Restaurant offers great spectacular food, drinks and world class jazz in a historic atmosphere. We are proud of our offerings and would be even more proud to be your choice for a downtown Kansas City restaurant.
Make a reservation today. We look forward to seeing you and hope you try one of our brag worthy Kansas City steaks.
Select One of Our Menus You Wish To View Below