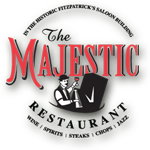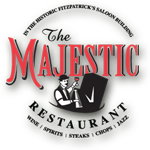 In 1983, two lifelong friends and Kansas City natives, Frank Sebree, II and James B. Nutter, Sr., and their wives Annabelle Nutter and local antique dealer and restaurateur, Mary Ann Sebree, purchased The Fitzpatrick Saloon Building. The two couples recognized the beauty of the historic building hidden beneath the dust and debris and spent two years painstakingly restoring the fantastic old building. They polished the exterior copper façade, restored the original molded tin ceiling, shipped in a terrific 1900 40-foot long bar from New Orleans, and acquired an 1880 bar for The Jazz Club. In addition, they commissioned famed local artist Jack O'Hara to paint an original oil on canvass mural for the entrance to Fitzpatrick's called "From Kansas city to… Fame", which depicts more than a dozen people with strong Kansas City ties who achieved great success in some area of the arts, including Walt Disney, Count Basie, Charlie Parker, and Ernest Hemmingway.
Several restaurants occupied the space after the renovation was complete. However, it was local restaurateur Doug Barnard, who recognized that serving up the best Kansas City steaks as well as live Kansas City jazz was a perfect fit for this old Kansas City saloon. In 1992, Mr Barnard brought back to Kansas City a favorite institution, The Majestic Steakhouse, which he called The New Majestic Steakhouse. The New Majestic was a huge success and helped give diners the ultimate "Kansas City" experience in the beautiful downtown saloon.
The Nutters and the Sebrees were looking to sell the building around 2008. Frank Sebree, III and his wife Jolyn loved the building and were eager to preserve it and so they purchased it in 2008. The New Majestic Steakhouse closed its doors for good in May, 2009. Frank and Jolyn were determined to keep the tradition of the Majestic alive in Kansas City and opened Fitzpatrick's doors as The Majestic Restaurant in November of 2009. The Majestic Restaurant serves the best dry-aged Kansas City Steaks for lunch and dinner seven days a week along with fantastic chops, fresh seafood, and homemade desserts. In addition, you can enjoy a fantastic bottle of wine, one of more than one hundred whiskeys, or a hand crafted cocktail while listening to some of the best Kansas City jazz nightly with musicians including Bram Wijnands, Rod Fleeman, Mark Lowrey, Hermon Mehari, and others. You can also enjoy a terrific brunch served Saturday and Sunday from 9:30am until 2:30pm with live Kansas City jazz piano on Sundays from 11:00am until 1:00pm.
History is still being made at The Majestic Restaurant and we invite you to join us in being a part of it.