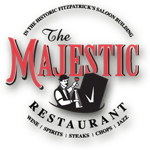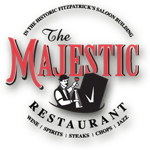 The Majestic Restaurant-
A Downtown Kansas City Restaurant
Prices and items subject to change.  Please call us at (816) 221-1888 if you have any questions.
The Majestic Restaurant offers great spectacular food, drinks and world class jazz in a historic atmosphere. We are proud of our offerings and would be even more proud to be your choice for a downtown Kansas City restaurant.
Make a reservation today. We look forward to seeing you and hope you try one of our brag worthy Kansas City steaks.

Select One of Our Menus You Wish To View Below
We are currently only serving diner at this time. We have seatings at 6 and 8 with music on Tuesdays.
Wednesday through Saturday we have seatings on our main floor at 5 and 7, and in our jazz club with
live entertainment at 6 and 8. We know things are different for everyone right now, thanks for thinking
of us, and we hope to see you all soon.