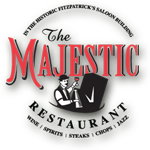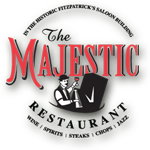 The Majestic Restaurant Features Some Of The Best Kansas City Jazz Musicians.
Historians say that jazz was born in New Orleans. That might be true, but it came of age in Kansas City. Kansas City Jazz introduced elements of the blues to create legendary jam sessions that would last until the sun came up. It was Kansas City Jazz that marked the transition from the Big Band style to more modern styles like Bebop and Swing. Legendary performers like Count Basie and Charlie Parker pushed the envelope of the modern style in the jazz clubs and speakeasies of the jazz era. Boss Tom Pendergast kept the lawmen at bay while musicians honed their craft and created the truly American style of music known as Kansas City Jazz. At The Majestic Restaurant, we work hard to keep this artform alive and provide a venue for some of the best Kansas City Jazz musicians to showcase their talents.
You can hear live Kansas City Jazz seven days a week at The Majestic Restaurant featuring performers like Bram Wijnands, Mark Lowrey, Hermon Merahi and others. For a real Kansas City Jazz experience make a reservation for our Jazz Club any night of the week to hear live jazz late into the evening. Nothing compliments this music like a great Kansas City steak or a hand crafted, prohibition era cocktail. This is why we offer our full dinner and cocktail menu in The Jazz Club. Join us for an evening and you will know why The Majestic Restaurant strives to keep the Kansas City Jazz tradition alive and well for future generations of performers and music lovers.
All of the Kansas City Jazz performances featured below were shot in The Jazz Club at The Majestic Restaurant in Kansas City.

Bram Wijnands, Hal Melia, & Tommy Ruskin

Dave Stephens & The Mark Lowrey Trio
 The Hermon Mehari Trio w/ Peter Schlamb

Bram Wijnands, Tommy Ruskin,  Mike Herrera, & Tim Perryman

Shay Estes, Mark Lowrey, Hermon Mehari, Bob Bowman, Ryan Shanks, & Jeff Shirley