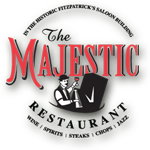 Sauces and Accompaniments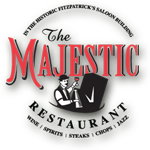 Sauces and Accompaniments
At The Majestic Restaurant we strive to serve the best steak in Kansas City. This means serving dry aged beef with minimum seasoning to allow the flavor of the beef to shine. We recognize that some of our guests would like to add some additional flavors to create their perfect steak. This is why our team of chefs is constantly looking to enhance your dining experience by creating fresh sauces and accompaniments. These are the sauces that we offer each evening to our guests. Ask your server about any additional sauces available during your visit.
Béarnaise: A rich yellow sauce based in emulsified egg yolks and clarified butter with fresh herbs added for flavor. It is derived from Hollandaise sauce and dates back to the early part of the 19th century. It was named for the Béarn province of France, home of Henry IV of France.
Bordelaise:  Our most popular sauce. It is a blend of a beef stock reduction, demi-glace, butter, red wine, and flavorings. It is named after the Bordeaux region of France. This sauce pairs very well with full bodied red wines and steaks.
Brandy-Peppercorn Cream Sauce: Our house signature sauce featured on The Majestic Steak. This rich cream sauce is fortified with brandy and a generous portion of coarse peppercorns.
Garlic Rub: After your steak is cooked, the chef will coat is with warm, freshly chopped garlic. This is a garlic lover's delight.
Melted Blue Cheese: We melt premium Stella bleu cheese and spread it across the top of your steak after it is taken off the grill. This is fantastic with T-bones and Ribeyes.
Sautéed Onions: Fresh sautéed onions made to order and served on the side. This adds wonderful flavor to our leaner steaks.
Sautéed Mushrooms: A wonderful addition to all of our steaks. Freshly sautéed mushrooms to add a bit of richness to your steak.
Creamed Spinach: A blend of fresh spinach, cheese, cream, mushrooms, and crushed red pepper. It has a bit of spice, but is definitely a house specialty.
Twice Baked Potato: We hollow out one of our baked potatoes. We blend the potato with butter, sour cream, bacon, cheese, chives, and spices. The mixture is piped back into the potato and returned to the oven.
We invite you to The Majestic Restaurant to try a Kansas City steak and find out why we feel they are the best steaks you can find.