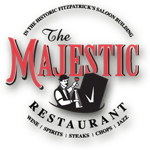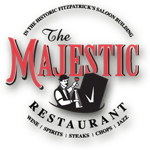 A "MAJESTIC" SPOT FOR A NIGHT OUT IN CHALLENGING TIMES
Thank you for keeping our locally owned restaurant in mind when you think of enjoying an evening out.  Like everyone, we are changing our routine a bit in these ever-changing times to ensure that we provide a truly "Majestic" night out while doing our best to promote the safety and well being of our guests and staff.  With this in mind, here are some of the steps that we are taking to try to provide a safe and enjoyable evening for everyone:
Reservations are currently required to dine at The Majestic. The Majestic has two floors with dining rooms.  To minimize the contact between guests and to facilitate more thorough sanitizing of dining areas, we have limited our reservation options to two seatings per floor with

dining times limited to 1½ hours per party

.  

We are currently checking and recording the temperature upon arrival of all staff members daily. Staff with fevers or otherwise showing symptoms of COVID-19, or who have had known contact with those who have or are suspected of having the corona virus, are not allowed to return to work until they have been appropriately cleared to do so.

We have increased sanitizing of all surfaces that guests and staff members frequently come in contact with.

Laminated menus are sanitized between each and every use.

Staff members are required to wear face coverings and guests are requested to wear masks at all times that they are not seated at their tables.  We ask for your cooperation in this regard to help ensure a safe experience for everyone – if you need a mask, please ask a host or server. 

Handwashing has always been an important part of safety in our restaurant, and that has not changed.

Hand sanitizing stations are located at various locations in The Majestic.

For the protection and safety of our guests and staff, we are not offering bar or lounge service at this time.

Should you prefer your Majestic experience in the comfort of your home, we provide curbside carryout service as well as delivery through DoorDash and Grubhub.

We continue to try to stay abreast of the national and local health department recommendations and will do our best to update our health and safety precautions as appropriate.

Thank you again for helping to support The Majestic Restaurant and its terrific staff!  We very much appreciate it.  We are doing our best to ensure a safe and enjoyable experience for all and look forward to welcoming you soon to Kansas City's Historic Downtown Saloon!
Reservations can be made by calling: 816-221-1888 or visit: www.OpenTable.com 
Current reservation options include:
Tuesday 6PM & 8PM in the main dining hall ONLY

Wednesday through Saturday 5PM & 7PM main dining hall 6PM & 8PM in the jazz club
Live Jazz is played in the main dining room on Tuesday and in our lower level Jazz Club Wednesday through Saturday.
We at the Majestic Restaurant recognize that these are quite different times for everyone. Do not hesitate to contact us @ 816-221-1888 or via email Joespoon@Majestickc.com or Ted@Majestickc.com